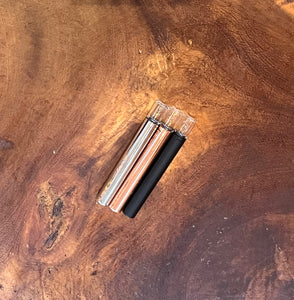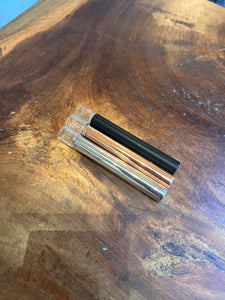 SAMPLE 1-HITTER PIPES
Regular price
$75.00
Sale price
$45.00
---
OUR FAMOUS, PREMIUM 1-HITTERS.. ON SALE 😮! These pipes were road-samples and travelled around to a few markets over the course of the year. They still function and sparkle beautifully, but have very very minor scuffs or scratches on the metal casings. We have 1 black, 1 silver, 1 rose gold, 1 gold available - snag one at this great price while you can!
Each pipe includes a Frankie Cleaning Kit. 
DETAILED PRODUCT DESCRIPTION:
PIPE DREAMS
the high art of better design
With elements of polished metal and clear glass, FRANKIE 1-hitters are a show-stopping take on a classic smoking accessory. Our 1-hitters were thoughtfully designed with simplicity and cleanliness in mind with their luxe aesthetic and unconventional construction. 
WHAT MAKES HER UNIQUE?

💯 % cleanable with a 2-piece design

Built in filter to stop flower debris/ash, and not 💨 
Pocket sized, with a punch (holds up to 0.3g / bowl)
Precious metal case - seen here in polished Rhodium
Other finishes available: 18K Gold , Matte Black, Rose Gold
Designed purposefully in two pieces, its structure allows for easy cleaning of both parts. The tempered glass insert (bowl piece) offers a smooth smoke experience for a pipe of such compact size. And the outer precious-metal case filters ash but allows smoke to pass through.
PRODUCT DETAILS
Rhodium-dipped brass
Tempered glass
1 cm Diameter / 8cm Length
FRANKIE cleaning kit is included with every pipe purchase. Each cleaning kit contains 3x pipe cleaner brushes,  20x 99% isopropyl alcohol wipes, 1 multi tool
NOT SURE HOW 1-HITTERS WORK? HERE'S THE 411:

1. Start by grinding up some of your favourite cannabis flower!
Need to replace your ever-so sticky grinder? Customers are loving FRANKIE'S non-stick Grinders
2. Scoop flower into the glass bowl piece (glass end of the pipe) // or stamp the glass bowl piece into the pile of ground flower. The glass bowl piece can hold about 0.3 grams of flower.
4. Light the flower-filled end of the pipe & your off to the races 💨 ! With the help of the built in filter on the metal case, there won't be any ashes or flecks of burnt flower that sneak through!
3. When the sesh is done, gently tap pipe against a firm surface outside or into an ashtray. But for a nice and thorough clean, use the cleaning kit supplies that are included with your pipe.
HOW TO CLEAN YOUR 1-HITTER PIPE:
(Watch the video
Use all tools inside the FRANKIE cleaning kit (included with every pipe), along with 🧼 and 💦 
1. Start by clearing out any ashes and burnt flower debris from the glass portion of the 1-hitter. Easily do this with the stainless steel multi-tool by scraping all edges of the glass, then tap glass to empty.
2. Use the included pipe cleaner brushes to push through any debris in the shaft portion of the glass.
3. Next use the isopropyl-soaked wipes to clear sticky resin from the glass.*Tip: if the 1-hitter is very well-used you may want to give the glass insert a little iso-bath for a few minutes (use a shallow dish and lay glass in isopropyl, 99% works the best 😉 ) to bring the glass back to its crystal clear glory.
4. Run the glass under warm water with soap to remove any isopropyl remnants.
5. To clean the precious metal casing:
-Wrap an iso-wipe around the brush end of the pipe cleaner brush and swivel the brush inside the tube.
-Wipe the outside of the case (acting mouth piece) with a soft cloth, water and non-abrasive soap.
-Unclog filter with a safety pin if needed.
-Do not soak the metal case in isopropyl, abrasive chemical cleaners, or use metal polish.
*Intended for use with legal cannabis or tobacco. By purchasing you confirm you are 19+ or of legal age in your province/state - age verification may be required upon delivery.*